While net zero energy buildings are technically achievable, they are rare. The U.S. Department of Energy's Zero Energy Buildings database lists eight projects across the country that qualify as net zero--those buildings that produce from renewable sources at least as much energy as is used in a year. That number should grow as policymakers, often in partnership with private enterprise, more ambitiously pursue net zero energy in order to meet climate change goals.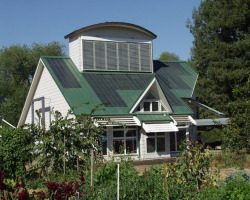 California is undoubtedly leading in this area. The state is working to develop an action plan that will make real a goal of all new and 50% of existing buildings meeting a net zero standard by 2030. NBI, under a project for the California Public Utilities Commission, has been working with state policymakers, utilities, design professionals, owners, consultants and others to engage and facilitate input. Through a series of three meetings held last fall and this winter, stakeholders are gathering to craft the strategies and tactics that will allow net zero energy buildings to become standard practice in California within two decades.
In Massachusetts, a governor-appointed Zero Net Energy Buildings Task Force released its comprehensive report, Getting to Zero, last year. The report calls for zero net energy use in buildings by 2030 to be achieved with incentives, minimum energy performance standards and workforce development (for details see our October 9 blog entry).
Nationally, the U.S. Department of Energy has launched its Zero Net Energy Commercial Buildings Initiative (CBI) to "develop and disseminate technologies, practices, and policies for establishment of zero net energy commercial buildings." The effort is funded with $33 million to achieve net zero energy buildings in new commercial buildings by 2030, 50% of all commercial building stock by 2040, and all commercial buildings by 2050. In addition, the Zero Energy Commercial Buildings Consortium launched officially this year to collaborate with DOE promoting net zero building practices. NBI is a member of the consortium's steering committee and supports strategy development on advancing the introduction of new technologies into the market and relevant policies.
---